Human rights and climate justice activist.
Fatoumata Jallow Tambajang
Former Vice-President of the Gambia
Aja Fatoumata C.M. Jallow-Tambajang  (born 22 October 1949 ) is a Gambian politician and activist who served as Vice-President of the Gambia and Minister of Women's Affairs from February 2017 to June 2018, under President Adama Barrow. Tambajang was born in Brikama, the Gambia. She was educated in the Gambia, Dakar and France.[1] She completed a BA in French at the University of Nice Sophia Antipolis.
Early in her career she had been the chair of the Gambia National Women's Council and an advisor to Dawda Jawara, the first President of the Gambia as a nation independent from the colonial rule of the British Empire. After the military coup d'état in July 1994 that deposed the Jawara government, she held the post of Secretary of State for Health and Social Welfare from 1994 to 1995 in the cabinet of the Armed Forces Provisional Ruling Council.
She was appointed as Vice-President by Barrow in January 2017, but was found ineligible due to constitutional age restrictions. She was instead made Minister of Women's Affairs overseeing the office of Vice-President, until the constitution was changed and she was formally sworn in as Vice-President in November 2017. Prior to her appointment, she had served as chair of Coalition 2016, the alliance of opposition political parties that had supported Barrow's candidacy in the 2016 presidential election.
Tambajang joined the United Democratic Party (UDP) in April 2015, during the Fass stand-off with security forces. At the United Nations Development Programme (UNDP), she work in the field of development, including 5 years in war-torn Mano River. In 2001, whilst working in the African Great Lakes, she was the victim of a rebel hostage situation. 
Recently, Fatoutama was recently awarded by All Media Network for championing the rights of women and girls. 
Executive Director of Akiba Uhaki Foundation
Jay is the Chairperson of the Global Alliance for Improved Nutrition (GAIN), a global foundation  headquartered in Geneva that is committed to addressing malnutrition facing two billion people in the world. GAIN is a public–private partnership that brings together United Nations (UN) agencies, private businesses, philanthropic organizations, governments and civil societies arou practical programmes in some 30 countries worldwide. (www.gainhealth.org) Jay is the co-founder an investment and management company in South Africa, the J&J Group. In 2007 he set up the J&J Development Trust and dedicates himself full-time today to voluntary work  and social activism on a global scale.
He serves in an advisory capacity for a number of international organisations including the Broadband Commission of the International Telecommunications Union (ITU) and United Nations Educational, Scientific and Cultural Organization (UNESCO) and the Lead Committee of the UNSG on Nutrition. (www.scalingupnutrition.org ) He also serves on the Board of the Mo Ibrahim Foundation which focuses on Governance in Africa. (www.moibrahimfoundation.org)
Jay Naidoo is currently the Patron of the Scatterlings of Africa, which is a science education initiative that celebrates Africa's status as humankind's ancestral home. www.past.org.za 
He served as the Chairperson of the Development Bank of Southern Africa, a major infrastructure financing development institution, headquartered in  SA, from 2000-2010.
From 1994 to 1999, Jay was the Minister responsible for South Africa's Reconstruction and Development Programme (RDP) and Communications Minister in Nelson Mandela's Cabinet.
He was the founding General Secretary of the Congress of South African Trade Unions (COSATU), the largest labour movement in SA, where he served three terms (1985 to 1993).
Jay was the recipient of the Chevalier de la Légion d'Honneur (Legion of Honour), one of France's highest decorations and many other awards.
He publishes a blog at www.jaynaidoo.org. Jay's autobiography, Fighting for Justice is available in leading SA bookstores.
founder and Director of Priority Africa Network
Kenyan photojournalist, Politician and Activist
Boniface Mwangi is one of the most vocal and courageous Kenyans of our generation. 
Recognized globally for his passion and excellence in photography, this photographer-cum-activist could not resist the call to activism after witnessing, first-hand, the brutality that disadvantaged Kenyans experienced in the wake of the Post- Election Violence of 2008. He then established PichaMtaani, a traveling photography exhibitionshowcasing images of the violence. The travelling photo exhibition toured across Kenya and drew more than 2 million visitors.The exhibition tour offered a platform for individual reflection, honest dialogue, interpersonal healing and community reconciliation. 
In 2012 Boniface founded PAWA254, a hub for creatives in Kenya, where journalists, artists and activists find innovative ways of achievingsocial change.
At 34, he has been a guest of the state on many occasions for championing justice and calling out powerful leaders for their wanton corruption and blatant violation of human rights. This has earned him friends and foes alike.His commitment to promote social change has also come at a heavy price. As a husband and father, his wife and children have endured hostilities from different quarters. The escalation of these hostilities has seen him being threatened with harm and/or death by powerful forces in government. 
Like many Kenyans with a challenging upbringing, where basic needs were not always met, Boniface Mwangi is all too familiar with the struggles of the ordinary Kenyan.  He has worked as a bus-park sweeper,house-boy and hawker.He even served time in Approved School. 
Despite monumental odds, he has risen, discovering photography at a young age and applying his entrepreneurial brilliance to break free from the clutches of poverty.  Those who have worked with Boniface Mwangi can attest to his diligence, compassion and self-drive.
He has twice won the CNN Multichoice Africa Photojournalist of the Year Award and is the youngest Prince Claus Laureate. New African Magazine named him one of the 100 Most Influential Africans of 2014 and 2016 and he is also a senior TED Fellow. Time magazine recognized him as a Next Generation Leader in 2015 and he was selected as Kenya's Top 40 under 40 men in 2016.
Boniface Mwangi continues to wage a spirited campaign against oppressive establishments. Although at one point he stood alone, today his movement has gained traction with many – inspired by his vision and consistency – adding their voices to champion for a better Kenya.
After years of agitating from the sidelines, Boniface Mwangi sought the people's mandate to take the struggle inside the establishment. He vied for the position of MP in Starehe Constituency, one whose cracks and crannies he is all too familiar with, having called it home for a good part of his youth. Though unsuccessful in his first attempt to enter Parliament, he has a track record you can count on and vows to continue speaking courage fluently, because the people of Kenya deserve better.
Boniface and his wife NjeriMwangi are the loving parents of 3 adorable children. 
He is also the author of Unbounded – a poignant and riveting memoir that captures his incredible journey.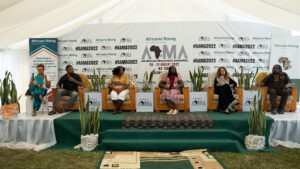 Coordinating Collective 2023-2025 The Coordinating Collective serves as the "Board...
Read More