Africans Rising is a Pan-African movement of people and organisations, working for Unity, justice, Peace and Dignity.
Africans Rising for Unity, Justice, Peace and Dignity (Africans Rising) is a Pan-African movement of people and organisations, working for justice, peace and dignity for all Africans wherever they live. The organisation provides a space for progressive African civil society leaders and groups engaged in various civic struggles to convene, connect, collaborate, share knowledge and build solidarity among people and across issues. Africans Rising promotes citizens' organising and enables civic movements in their struggles for social justice.
History of Africans Rising
Africans Rising is the result of a bottom-up series of on and offline consultations and dialogues between and amongst social movements, NGOs, peoples and popular social justice movements, intellectuals, artists, athletes, cultural activists, religious organisations, trade unions and others, across the AU determined regions of the continent, including the diaspora. The Africans Rising movement was formally launched in May 2017 with an understanding that African civil society needed to develop a new, collaborative and effective way to work for change.
The Validation Conference
The Validation Conference took place between the 23rd and 24th of August 2016 at the MS Training Centre for Development Cooperation (TCDC), in Arusha, Tanzania. 272 delegates attended the conference from 40 Africans countries in addition to an honorable representation by the African Diaspora. 51% of the delegates were women and 60% were under the age of 35. The conference deliberately positioned all its participants on an equal level and 397 US Dollars spontaneously contributed to the movement.
Since our Inception in May 2017
Since our inception in May 2017, we have continuously developed a deep awareness of the need to restructure our movement against the norms of the conventional NGO internal governance. Our consultations have revealed a major cynicism towards traditional political structures, NGO influences and even towards local civil society entities. Africa's youth have a deep sense of detachment to any form of labels and it is our job to understand what Pan-Africanism means to millennials. The systematically dysfunctional political leadership has rendered our youth cynical of any collaborative future. Hence, the confirmation of the consensus that Africans are rising but on their own terms and with unconventional rules.
Our Mission and Vision Vision The Movement envisions that Africa-wide activism, solidarity and unity of purpose of the Peoples of Africa will build the future they want – a right to justice, peace, dignity and shared prosperity. https://www.youtube.com/watch?v=c49IBpZS1mg Mission To work with, build, strengthen, support and leverage Pan-African peoples' movement either local, national or regional, grassroots struggles and movements by
Read More »
Leadership and Team members and Ambassadors
Pan-African Secretariat The Pan-African Secretariat is the coordination and management unit of the Movement composed of paid and unpaid staff, interns and volunteers. The Secretariat
Read More »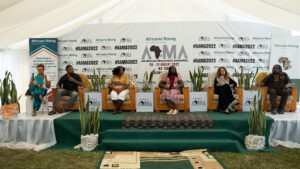 Coordinating Collective 2023-2025 The Coordinating Collective serves as the "Board of Directors" of the movement. It is an elected committee with the overall responsibilities for
Read More »
Ambassadors Kumi Naidoo Human rights and climate justice activist. Bio Kumi Naidoo is a South African human rights and environmental activist.  He was International Executive
Read More »